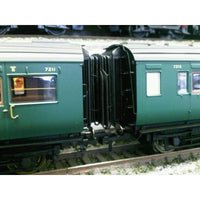 Corridor Connections
Our range of coach gangways are assembled by hand, using precision tool cut parts for accuracy. Each corridor connection is designed and made to fit the specific end door on the coach. There is no glueing required for ready to run coaches, they are a simple push fit.
We offer a wide range to fit ready to run coaches from all the major manufacturers in OO gauge, as well as a range to fit O gauge kit or scratch built coaches.
While we do keep the most popular in stock, many are made to order within a few days.
We always try to manufacture a new corridor connection when new rolling stock is released by the main manufacturers.
47 363 'Billingham Enterprise'

Bachmann Class 47 with modified paintwork and weathering
Our Personal Projects

Coal Sector 56 132 detailed and weathered
Accurascale PFA Wagons

Individually Weathered
Farkham

Now retired from the exhibition circuit in our workshop
Scrap Metal

A metals train trundles through Farkham
Project Mercury

Bachmann Pipe wagons resprayed
47 363 'Billingham Enterprise'
Bachmann Class 47 with modified paintwork and weathering
Our Personal Projects
Coal Sector 56 132 detailed and weathered
Accurascale PFA Wagons
Individually Weathered
Farkham
Now retired from the exhibition circuit in our workshop
Scrap Metal
A metals train trundles through Farkham
Project Mercury
Bachmann Pipe wagons resprayed